Mumbai-based documentary photographer Padma Shri Sudharak Olwe's Firefly, an exhibition of photographs, artefacts and performance, on 'Lavani' – a traditional dance form of Maharashtra opened at the Nine Fish Art Gallery in Byculla, Mumbai.
The exhibition was inaugurated by Vidya Balan, with attendees including celebrities, artists, journalists and curators alike, including Parvez Damania, Anup Jalota, Rupali Suri, Niharica Raizada, Vilas Shinde and Pablo Bartholomew among others.
The 45 photographs that are documented over 20 years by Sudharak Olwe attempt to capture the 'lavanya' (beauty), struggles and journey of the social lives of these folk artistes and look beyond the popular perception of the traditional dance form. "I want to share their art and life in my photos," elaborated Sudharak, who still continues to document the Lavani artistes.
More about Sudharak Olwe, who has been marking a new global space for Indian photography, with exhibitions in Malmo (Sweden), Lisbon, Amsterdam, Los Angeles, Washington, Dhaka, Mumbai and Delhi among others. Olwe is known for his extraordinary work capturing in both rural and urban communities, presenting tales of resilience, courage, and change. In 2005, Olwe was one of the four awardees for National Geographic's "All Roads Photography Program: In 2016, he received the Padma Shri, one of highest civilian awards awarded by the Government of India.
In the current exhibition, Sudharak Olwe's timeless frames pay a tribute to this traditional art form that has contributed tremendously to the development of Marathi folk theatre. Prominent Lavani traditional folk artistes from Solapur were honoured at the event, the Lavani artistes shared their stories through their energetic performance as well. The proceeds helped the education of children of Lavani dancers.
Along with the photographs by Sudharak Olwe, artefacts curated by Gourmoni Das are also on display.
For the uninitiated, 'Lavani' is a traditional dance form that originated in Maharashtra in the 18th and 19th centuries. Lavani is performed on public stage, and is a performative tradition practiced by a certain set of communities consisting of interactive gestures, and songs and noted for its biting dialogues often toned with socio-political satire; the dancers are always agile and attentive to the audience's reactions.
The exhibition was presented by Nine Fish Art Gallery & Dot Line Space Art Foundation.
About Nine Fish: Located within the charming precincts of a historic textile mill in Central Mumbai, Nine Fish Art Gallery seeks to explore connections between multiple art-related endeavours and create a stimulating space within the larger art ecosystem for emerging art practitioners of exceptional talent from across South Asia. Established in 2015, Nine Fish has since exhibited both national and international artists. It has consistently and independently provided Art Residencies and studio space to upcoming young artists as well as hosting five consecutive Art35 events over the years.
About Dot Line Space: Dot Line Space is an art platform started in 2015 in Mumbai with the aim to Create, Curate, Collaborate and Celebrate art in diverse forms started by graduates from the prestigious Sir J.J. School of Art. We believe in bringing together different art movements from around the globe and creating spaces which become talking points of historically diverse visual expressions. Our curation formats are imbued with sensitivity and debate, as we try to bring the regional arts and crafts of our country to the forefront. We aim to unleash each artist's true essence with absolute integrity.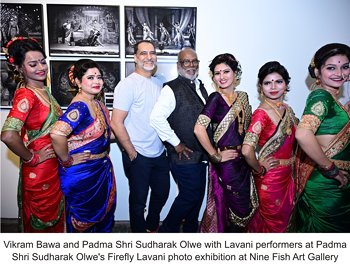 Vidya Balan inaugurates Padma Shri Sudharak Olwe's Firefly Lavani photo exhibition at Nine Fish Art Gallery