—-Raja Sarfaraz
Kashmir Is now a Days not only overwhelming With Beauty but Craftsmanship as well. We Always Come across the inspirational stories of People who being Under dog Play kings. Kashmir has always been a contributor of Tourism ,Culture, Supports , Spirituality, Brotherhood, Fashion, Style,  ,Aesthetics weather National or International level.Tanveer Wani is an example of Such Budding Artist who is not only being imparted with the talent as an Actor but a an adequate experience as a Line producer and handling Bollywood and Local Productions across Kashmir.Tanveer Is these days on Cards making its way in Bollywood with Top skills and Methodology .Tanveer Has worked in several Top TV Channels as an Actor including  Surya Putra For Sony, Lala Majnu Movie, Tanav For Sony,Choti Sardarni for Colours, Movies Including Beast, IBN7 steering Vidyut Jamwal upcoming, Jahad Movie and several Documentaries for Discovery Jeet etc.Had a Conversation with Tanveer Wani, the Story is interesting and Inspiring.
Tell Us More about Your Self? 
Well I'm from Kulgam south Kashmir. Basically I am from Hawanad  Chawalgam a small village in Kulgam district of South Kashmir, my primary education was done in a private school.
How You Entered in Acting what was the Inspiration?
"Well its different as Before 1990, Local Dialect Milo Dramas were performed on stage in our locality, in which all the people of the locality participated. There were and most of the time all the people of the district used to give an example of it, listening to it from the elders. Aa a child, I was invited to children's programs on Doordarshan and I kept finding a way and I went. After the matriculation results, the studies were affected for three years, after that I entered the college and got more opportunities to do many programs on the stage. Then advanced in journalism and in Jammu and Kashmir there was no other channel except the local Doordarshan on which I could show my talent but time is not too late to change and that time is going on".
So Tell Us Way towards Bollywood?
"Bollywood was a dream During Childhood .I earned name in films, national dramas and other national broadcasts. Film productions also come under the scope of work and the opportunity to work".
How Do You Face Local Atmosphere?
"Acting is a skill but even today most of the people in Kashmir consider it something wrong by giving it a funny color.Which is not good it must be equally respected because an actor being skilled person is very disciplined and hardworking ,to shoot in minus temperature for 10 hours in winters is not everyone's Cup of Tea".
What's You Point on Films in Kashmir?
"Having a film culture in Kashmir is a welcome step as many thousands of Bollywood people today come to Kashmir for film making, giving local artists an opportunity to showcase their art.  Ever since I appeared on the big screen, a feeling has arisen in the youth of Kashmir that anything can be done if a person works hard.  Running in which I am self-diagnosed."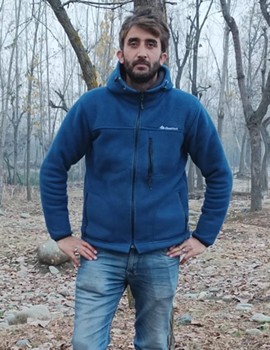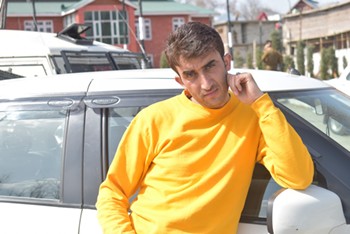 Actor Tanveer Wani – My Passion Was Action, And Direction Since Childhood